Snowflake Academy Foundation Moves Forward to Make Renovation a Reality
The Snowflake Academy Foundation, a non-profit corporation dedicated to supporting the renovation of the historic Snowflake Academy Building, is moving forward to obtain and manage the resources that will be needed to renovate and properly maintain the building as a library that serves the White Mountain region. Gordon Farr, Jr., President of the Foundation, emphasized that, "We would encourage all who have walked through the Academy's doors, as well as their descendants, to contribute what they can to the renovation effort. No amount is too small and will be greatly appreciated. Our goal of raising in excess of 1.9 million dollars is monumental. There will be several fund raising options for people to participate in. 100% of the monies contributed will go into the project. We would also encourage donors to share their memories of the Academy and experiences they had there."
He sees the effort as one that extends well beyond the boundaries of the communities that will use the library on a daily basis. "There are thousands of Alumni now living throughout the world who were somehow influenced by their experiences there. We want to spread the word about this effort and encourage all who have an interest to tell others who might also help in preserving this historic building."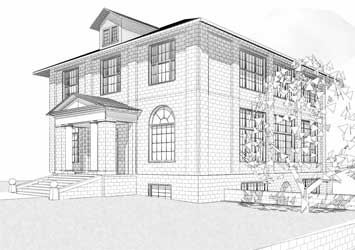 Artist's Rendition
Efforts are underway to make this artist's rendition of the renovated Snowflake Academy Building a reality.